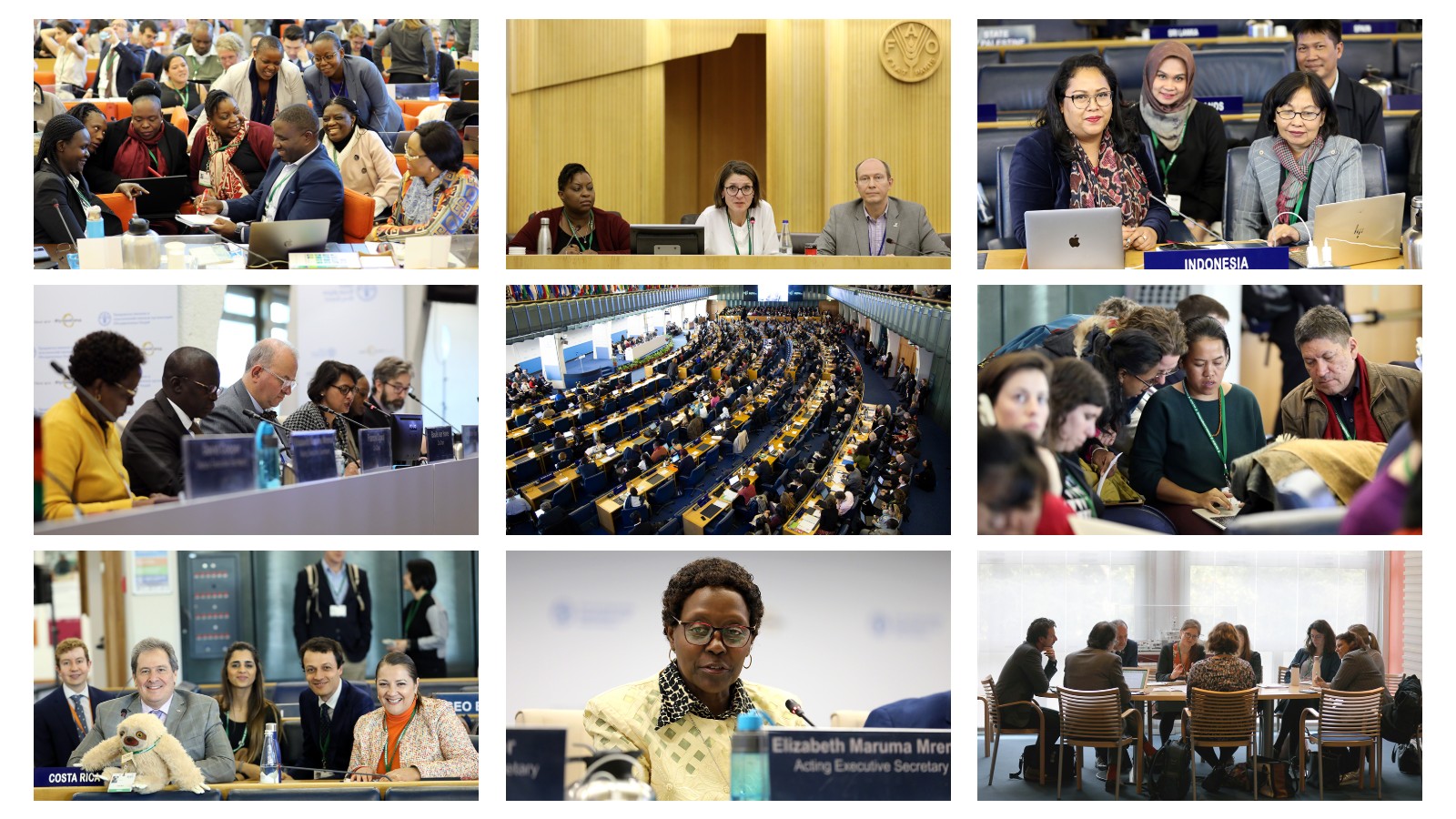 IISD/ENB | Mike Muzurakis
IISD's Innovative Earth Negotiations Bulletin Website
The CBD encourages the public to use the refreshed Earth Negotiations Bulletin website to stay informed about sustainable development-related international policymaking events.
Since its first meeting in 1994, the Conference of the Parties (COP) has recognized the importance of the Convention's relationship with biodiversity related conventions, other international agreements, and processes of relevance. From the very start of the CBD's first COP negotiation, the International Institute for Sustainable Development (IISD)—an award-winning independent think tank based in Winnipeg, Canada—has worked to provide balanced, timely, and independent reporting.  
IISD's Earth Negotiations Bulletin (ENB) is a reliable source for detailed insight about sustainable development negotiations and events around the world.  Events covered include all of CBD's COPs and the integral events leading up to COPs, like the meetings of the Subsidiary Body on Scientific, Technical and Technological Advice, and the Subsidiary Body on Implementation.   Other global environmental policymaking events that ENB documents include: 
Convention on International Trade in Endangered Species of Wild Fauna and Flora – CITES
UN Convention to Combat Desertification – UNCCD
UN Framework Convention on Climate Change – UNFCCC.
The reporting summaries and images in ENB reports help the public, journalists and academic researchers stay up to date on sustainable development related conference proceedings. ENB coverage helps synthesize the exchanges that take place at high-level meetings, which makes it easy to understand global efforts to tackle climate change, biodiversity loss, sustainable land use, safe chemicals management, deep sea mining and other global challenges.

Refreshed Website Makes ENB Reports Searchable
ENB reports reach government ministers and officials, delegates to CBD's formal and informal events, NGOs, the business community, and the media.  The tens of thousands of subscribers to ENB are able to access information from CBD's meetings while comparing notes between our events and other key international sustainable development negotiations.  
Given the many travel restrictions around the world, due to the ongoing COVID-19 pandemic, the reporting in the ENB has been a particularly useful tool in keeping global audiences informed.
Recently ENB launched a new, more searchable website. This refreshed website now includes:
an improved search function that allows users to easily find country statements made during environmental negotiations over the past 28 years, and 
an improved content management system that allows users to sort reports by topic, region, and negotiation process.
Their expert research insights, commentary, and analysis on critical sustainability issues, complement the work of the Secretariat of the Convention on Biological Diversity.
In preparation for the negotiations on the post-2020 global biodiversity framework, the CBD is facilitating various opportunities for Parties, other Governments, and all relevant organizations and stakeholders to participate.  It is expected that participants in the CBD process will rely on scientific and technical advice, such as that provided in the fifth edition of the Global Biodiversity Outlook.  ENB reports provide additional context that policymakers and stakeholders will likely want to access, before the fifteenth meeting of the Conference of the Parties later this year.
More Information:
ENB Press Release Page 
Process and Meetings
Conferences 
 
To Top