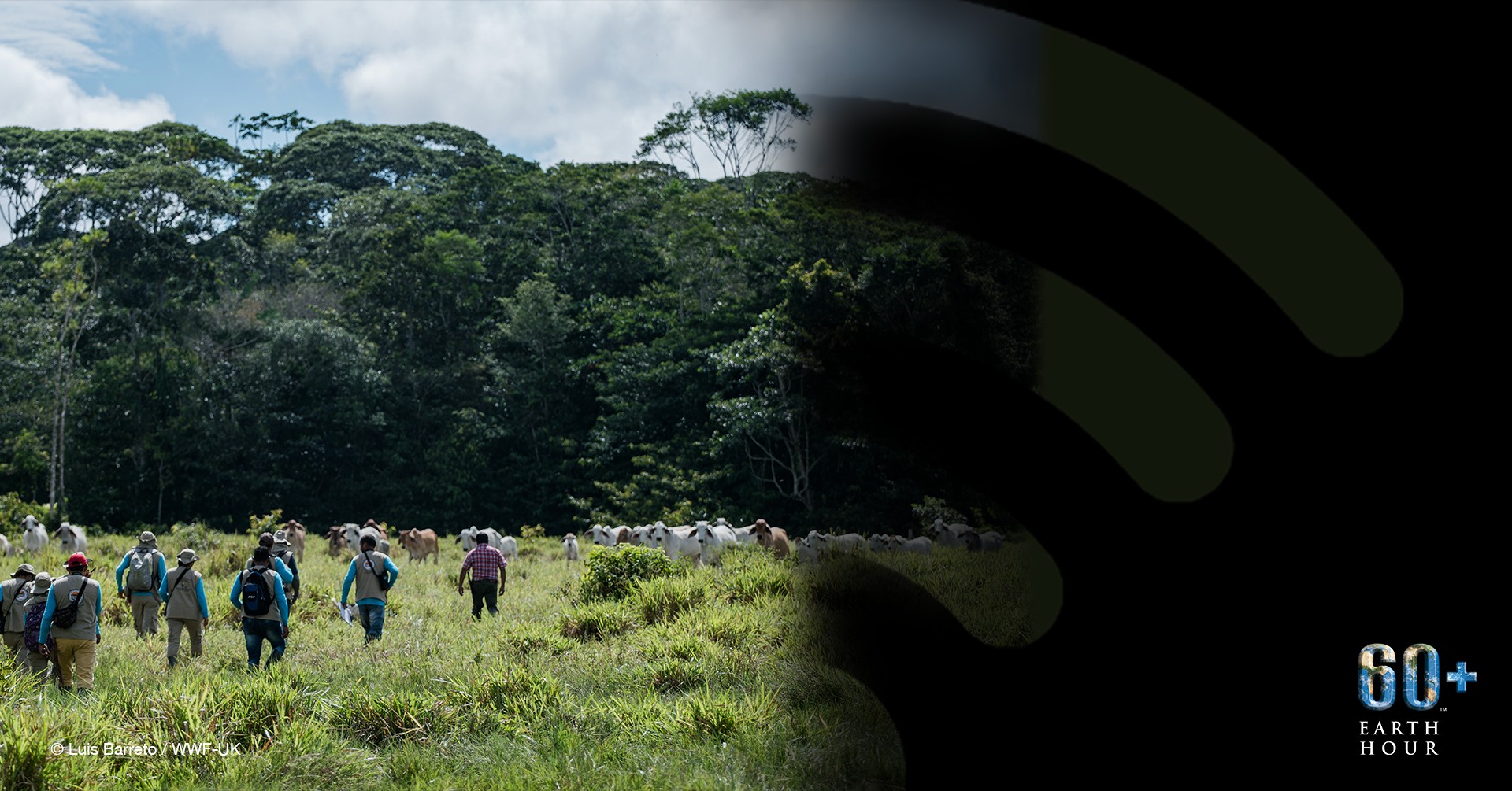 Luis Barreto WWF-UK
Earth Hour -- 27 March 2021
Earth Hour will take place on 27 March 2021 at 8:30pm local time. Consider switching off your lights for an hour!
The Secretariat of the Convention on Biological Diversity is participating in Earth Hour 2021! Millions of people around the world will switch off their lights to highlight the threats of nature loss and the climate crisis facing us today. As governments negotiate the post-2020 global biodiversity framework for adoption at the 15th meeting of the Conference of the Parties to the Convention on Biological Diversity, they must recognize the need to stop and prevent the further loss and degradation of ecosystems.  
Crucially, protecting nature is also a key solution to counteracting the effects of climate change. Sound policies to protect biodiversity will vary between regions; and recognizing the historical stewardship of indigenous and traditional communities that have sustained biodiversity for generations is critical to sustaining success. Their valuable knowledge, traditions and cultural practices are essential to maintaining ecosystem services and food security in the face of rapid climate change.
The air we breathe, the water we drink and the food we eat all rely on functioning natural systems and the production of common goods, livelihoods and our health and wellbeing also rely on nature. Recent events have forced people around the world to re-evaluate the vital importance of nature, its impact in our daily lives and the huge threats it faces. Pandemics and other emerging zoonoses cause more than a trillion dollars in economic damages annually, with COVID-19 already costing tens of trillions. 
It is clearer than ever that our future and the future of our planet are intrinsically linked; and both are under threat. The links between pandemic risk and biodiversity show the need for an inclusive, transdisciplinary and cross-sectoral One Health approach, as identified in the fifth Edition of the Global Biodiversity Outlook 5. 
This Earth Hour, World Wildlife Fund (WWF) is asking everyone to speak up for nature and help spark millions of conversations to elevate nature loss to a global audience. We must stop the destruction of nature on which our health, happiness and prosperity depend.
Earth Hour 2021 will be a key moment to unite people to speak up for nature.
Participation 
In the lead up to and on the night of Earth Hour, WWF  is asking people around the world to switch off and speak up for nature - to stand in solidarity to show we care about the future of our planet, our one shared home. 
In view of the ongoing health crisis as a result of the COVID-19 (coronavirus) outbreak, it is recommended that everyone celebrate Earth Hour digitally this year. There are many ways to take part online or at home and show your support for the planet on and around the hour, including:
#EarthHour started as a symbolic lights-out event in 2007. 🌏💡

Now, it's a powerful environmental movement #ForNature and climate. 🌱

Join us as we #Connect2Earth with over 180+ countries and territories by switching off your lights on 27 March at 8:30 p.m., your local time. pic.twitter.com/fSuW0UoJOw

— UN Biodiversity (@UNBiodiversity) March 26, 2021
More information:
Climate Change and Biodiversity
Learn about the Convention on Biological Diversity
To Top